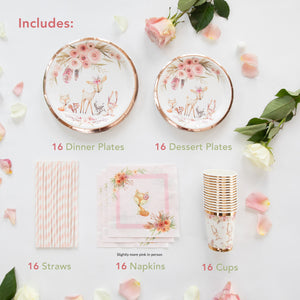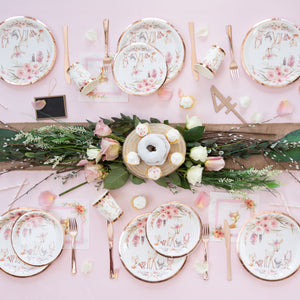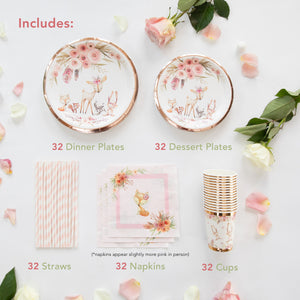 Woodland Creatures Baby Shower | Stunning Real Rose Gold Foil | Serves 16
Are you ready for an adorable woodland baby shower or party? Our charming set has everything to you need create a perfect woodland themed soiree.
OUR 80 PIECE SET INCLUDES:
- 16 Paper Dinner Plates (9 inch by 9 inch)
- 16 Paper Dessert Plates (7 inch by 7 inch)
- 16 Paper Napkins (6.5 inch by 6.5 inch - folded)
- 16 Paper Cups (9oz.)
- 16 Paper Straws
No need to worry about having lots of other decorations when you have this set. The plates and cups include not only a delightful design, but real rose gold foil to elevate the entire presentation.
OUR GUARANTEE - If you don't absolutely love our woodland set, we happily will buy it back from you!
**WARNING** Plates and cups contain real gold foil and should not be used in the microwave.
Additional Note - The napkins are slightly more pink in person than they appear in the photos.